Doctors may not have all the answers when it comes to dealing with sexual performance issues such as erectile dysfunction and early ejaculation, but people who work in the realm of sexual health often have a different point of view. Here, we've gathered together tips and advice from a variety of people who know exactly what to do and how to handle this touchy and sensitive issue.
For Partners – Get Under His Skin
People who are in love with men dealing with sexual performance problems often feel at a loss when these issues arise. Many women report their own feelings of frustration and depression linked directly to their partner's early ejaculation. So how can they be a part of the solution? According to Jen, a sex therapist interviewed by The Frisky, one of the best ways a woman can help is to address the problem head on. Too often, men withdraw when the issue occurs, feeling as though they need to handle it on their own when, in reality, that's a recipe for disaster.
Work with your partner to determine what the cause may be and encourage him to have his hormone levels tested (low testosterone is a common cause) or to work with a therapist to resolve any anxiety issues that may be at play? Your man isn't into therapy? Check out some books on tantric sex, then. Tantra combines meditation with sexuality, making it an ideal option for men who may need to work through some sexual anxiety.
For Men – Get in Touch With Your Body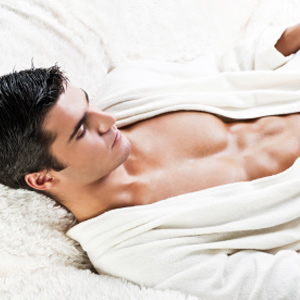 Sex therapists on major websites such as Men's Health, Maxim and the National Institute for Health all agree that the best thing men can do is to stop rushing and listen to what their body is saying. The human body, by its very nature, wants to be healthy. So listen to what it's telling you. Feeling sick every time you have to talk to your sister? Tackle whatever issue there is head on to clear the air and reduce that stress. Feeling like crap at the end of an evening after you binge on NetFlix and pizza? Skip the greasy dinner and go out to dine al fresco with your partner then take a walk around the city.
Simply put, this is about understanding what you need physically and then sorting out your behaviour to get things sorted out. It's not easy to always make the right or healthy choice, but doing so more often builds up your ability to do it even more. Willpower and positive change take time, so don't feel like you've failed the first time you break down and grab a taco instead of heading home to make something fresh, just accept that small doses of unhealthy options won't kill you in the long run, but making them your default almost certainly will.
30 Minute Masturbation
Sex therapists, surrogates and men who have tried it for themselves all rave about controlled masturbation, called edging, as a way to treat early ejaculation. The process is simple … but that doesn't mean it's easy. Simply put, edging involves slow and deliberate masturbation so that men becomes aroused very slowly and then creep towards an orgasm. This slow process can be frustrating but it offers physical and emotional insight for men as they learn the triggers that too often lead to early ejaculation. Ultimately, the goal is to be able to masturbate for 30 full minutes before reaching an orgasm – a feat not easily accomplished by most men regardless of whether or not they are dealing with premature ejaculation. Trying different methods and learning about tantric practices can help them to achieve this goal, however, making this perhaps the most enjoyable treatment option.