Premature ejaculation is a common problem which many men experience at one point or another. There are a number of treatment options when it comes to this condition but quite often, men want to try a more natural approach. Since medical options can result in side effects that can make the problem even worse. At the same time, there are dozens of articles and ideas about how men can deal with the problem naturally.
We've scoured the Internet to find the all-natural options that men are most likely to experience success with. These options offer no hard and fast guarantees, of course, but they are the ones rooted in real science. In a world of flash in the pan products and fad programs, it is more important than ever to choose options that represent truly healthy changes.
Commit to a Detox Diet
Forget all the short-term diets that promise fast results. Just commit to a clean diet for the foreseeable future. Break up with fast food, dump the chips and embrace the food that will fuel your body in all the right ways. Beginning a clean diet rich in fresh fruit, raw vegetables, and lean meats can be a difficult change at first. Use online resources in order to create meals that appeal and to keep up your motivation through online communities. Investigate meal prep companies like Blue Apron or Hello Fresh which make healthy cooking and eating easier.
Break a Sweat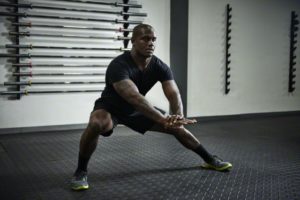 The other common trigger for premature ejaculation is often connected to overall physical fitness. Address this common issue head on by getting off the couch and breaking a sweat at least three times a week. Watch TV while you ride a stationary bike, hook up with an amateur soccer or softball league, hit the gym, pick up a game of basketball at the park or go for a swim. It doesn't even matter what activity you choose, as long as you are getting your body moving, improving your fitness levels and making regular physical activity a regular habit can be a natural treatment for premature ejaculation.
Practice Kegels
Some men laugh at the idea of using Kegels as a natural treatment for premature ejaculation, but they can be helpful. By strengthening the muscles there, men gain better control over not only how quickly they ejaculate, but also the overall health of their erections. Simply flex the muscles that you would normally use in order to stop urination midstream. Hold for five seconds, release and repeat. It's possible to do this exercise anywhere and anytime – literally, no one can even tell you are doing it. Results from this can take a while to begin to show, but if you do it regularly for a few weeks you should begin to see greater control.
Masturbate MORE
Masturbating and preventing yourself from climaxing has been used as a kind of sexual therapy for men who want to treat premature ejaculation naturally. Controlled masturbation is a practice where a man masturbates slowly and with a keen eye on how his body reacts. This can give him a greater insight into how he reacts as he builds towards orgasm. Over time, the idea is that men can identify these reactions and then make a change in intensity, tempo or movements in order to avoid ejaculation.
Get Moving in the Bedroom
Identifying when a man is close to orgasm is one thing, doing something about it is something else entirely. But simply changing position can lessen the intensity and help men regain control of their stamina. In sex, positions where a man is behind the woman – Doggy Style is the most common example of this – can be helpful in reducing sensitivity enough for men to avoid ejaculating before they are ready.
These simple natural treatments for premature ejaculation can help men take control of their sex life and get things moving in the right direction again. They may decide they need more help as time goes on but these lay a healthy and effective foundation so that men remain in control.