Problems with sexual performance can vary widely from one person to another as well as changing the way it presents in a single person. A man who struggles with impotence at one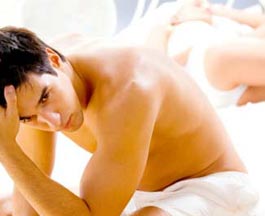 point may find that after a while achieving an erection isn't difficult but that his stamina or libido has plummeted. Sometimes this is simply due to changes in circumstance or side effects of a medication but in other cases, one condition can lead to another even when they seem to have little, if anything, in common.
Too Early, Too Late – The Connection Between Delayed and Premature Ejaculation
For men, issues with ejaculation and orgasm are the most common, beating out even impotence in terms of frequency. In most cases, ejaculating or orgasming too soon or too late is something sporadic which happens once in a while usually due to stress or anxiety. But these conditions can also become chronic, making it difficult for men to enjoy sex or connect with their partner on an emotional level.
Of the two, premature ejaculation is by far the most common and most widely discussed condition. Almost every man – and most women – knows about early ejaculation and its most common causes. Treatment options for premature ejaculation run the gamut from numbing gels and sprays to medication and therapy. For the most part, men are able to control the condition through the use of immediate treatments such as special condoms as they dig deeper to find and resolve the root cause.
But the proliferation of treatment options often leads men to find what works right away without bothering to figure out what could be causing it. This is die, in part, to the complex web of causes which can be a catalyst for the condition. Stress at work, anxiety about a relationship, poor eating habits, a sluggish circulation system and the use of other medications can all play a role, making unravelling everything to find the issue difficult. Finding ways to treat these underlying conditions are equally difficult especially if it involves a major change in behaviour, which is often the case when the condition is caused by poor diet or being out of shape.
Stress and anxiety are also common causes of premature ejaculation and the condition itself can being even more stress and anxiety, setting men up in a vicious cycle which further complicates diagnosis and treatment. In many cases, the anxiety and stress that comes along with early ejaculation can actually lead to the opposite problem – delayed ejaculation.
At first, men are happy by the turn of events – after all, it means lasting longer. But they soon realize it also means enjoying sex less since they simply can't recapture the ability to orgasm. Most men think this is a problem in addition to the original issue of premature ejaculation when, in fact, the two are one in the same.
Dealing with the double problem means getting smart about diagnosing the cause and tackling it once and for all. This usually means using short term treatment options including numbing lotions, special condoms or the off-label use of anti-depressants in order to prevent early ejaculation or, if a man is dealing with both issues, tingling lubes which can increase sensitivity.
At the same time, men also need to commit to the long-term energy needed to identify the underlying problem, otherwise they may end up struggling with these yo-yo performance issues for years, ultimately wrecking their sex drive, diminishing their sexual pleasure and even damaging their intimate relationships.
Coping with orgasm dysfunction is never easy, especially when one problem can easily lead to another. But by addressing the underlying issue with the help of a medical professional, men can mitigate the immediate symptoms and develop a healthy and effective long term treatment plan.